King Island Golf
About King Island Golf
King Island golf is fast becoming known as one of the most spectacular golf destinations in the world.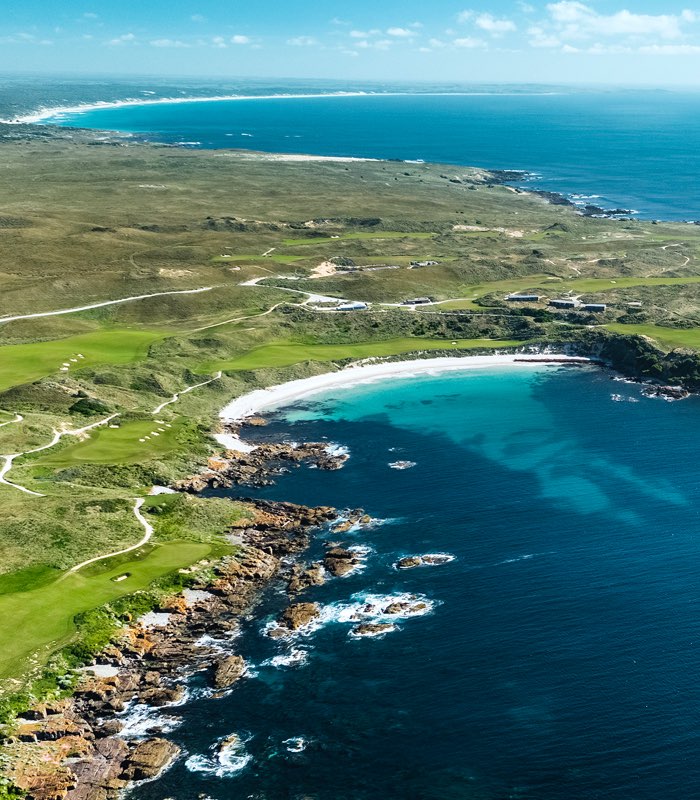 Located in the middle of Bass Strait between Victoria and Tasmania Australia, Air Adventure King Island is just a 45 minute flight from Melbourne.
King Island has a population of just over 1500 people and is surrounded by some of Australia's most beautiful beaches. It has two new golf courses in Ocean Dunes and Cape Wickham which are ranked among the best on the planet and the local King Island Golf Club which is one of the most spectacular 9 hole local courses in the world.
King Island is also famous for food exports with a range of produce being sought by the world's top chefs. Succulent beef, rich gourmet cheese and crayfish plucked from the Island's crystal clear waters are but three of the delicacies you can enjoy on your visit.
About Cape Wickham
Cape Wickham opened in October 2015 and was designed by American Mike Devries and Australian Darius Oliver.
It is a breathtaking coastal course that within no time was ranked number 24 in the world in Golf Digest's World ranking. It is now also ranked the number one public access course in Australia by Golf Australia magazine and number 2 in Australia by Golf Digest for public and private behind only Royal Melbourne West.
About Ocean Dunes
Ocean Dunes opened shortly after Cape Wickham in 2016 and was designed by Australian Graeme Grant who was the Superintendent of Kingston Heath for 16 years.
Like Cape Wickham the ocean is seen from most holes and the scenery is spectacular. The course cas been ranked as the number 4 Public Access course in Australia by Golf Australia magazine and number 10 of all courses in Australia by Golf Digest.
About King Island Golf Club
The King Island Golf Club is King Island's original golf course built in 1932. Located in the heart of King Island in Currie, it is a 9 hole course that overlooks the ocean. The course is played mostly by locals with weekly competitions but since the creation of Cape Wickham and Ocean Dunes many golf tourists have also enjoyed the course.  The annual King Island Open which is played at the course has also been attracting visitors since 1970.
Unique to the course is that it has 12 greens and 17 tees allowing different hole configurations for those wanting to play 18 holes.
It is a great option for an afternoon round when on Air Adventure's King Island 3 day King Island Direct Pro.
How to Get to King Island in Style?
If you are yet to experience these amazing courses or like many want to make the King Island golf trip a regular, then you are in the right spot to do it in style. Air Adventure to fly to King Island in just 45 minutes on our luxury Swiss built Pilatus PC12 and have our own bus and local tour guide waiting to look after you on the ground.
Click here to check out our King Island golf deals or contact our Golf Manager Jon Perrett at golf@airadventure or on 0402 852 637 to get the ball rolling.